Free Flying is a Disco/Funk with a hint of Spaghetti Western band that presents immediate social and cultural issues through music, song, and dance.
The ensemble combines music with humor and activism, encouraging open dialogue to promote awareness and understanding between people with different perspectives.
Free Flying hopes to inspire listeners to be introspective and discover the leader within themselves.
Gina Kodel is the founder of the Disco/Funktastic group Free Flying. She is a multi-instrumentalist (Cello, Flute, Piano, Jaw harp, Whistling), vocalist and composer from Los Angeles, California. She finished her B.F.A. as a Performer/Composer at California Institute of the Arts and has had the honor of performing at The Troubadour, Walt Disney Concert Hall, Roy and Edna Disney CalArts Theater (REDCAT) and the Hollywood Bowl. Gina has recorded flute and cello for the highly popular avant-garde rock band Blonde Redhead. She continues giving back to the community as a teacher in the greater Los Angeles area. She feels fortunate to be playing with some of the best friends she has made at CalArts and is continuously inspired by them. If you happen to hear a bird that sounds like they've had some operatic training for a few years; it might just be her.
Marcelo Bucater is a drummer/percussionist from São Paulo-Brazil based in Los Angeles since 2013. Currently part of the Drum Faculty at Los Angeles College of Music (LACM) in Pasadena-CA, teaching private and group lessons. Marcelo has worked as a session and touring musician for several years, playing in more than 20 records and performing in more than 500 shows with different artists. His versatility as a drummer and percussionist lead to performances accompanying artists of different genres all over the world. He has produced, recorded and performed with independent artists and renowned musicians such as Carrie Underwood for the 51st ACM Awards, Scott Henderson, Philip Bynoe, John Avila, Natalia Spadini, Little Brazil trio, Andrew Murdock, Duques, just to name a few. With a Bachelor in Music at FAAM (SP-Brazil), a Degree in Music Performance at Los Angeles College of Music, and a Master Degree in Jazz Performance at California Institute of The Arts(CalArts) he had the chance to study with renowned musicians such as: Jeff Hamilton, Joe LaBarbera, Ralph Humphrey, Randy Gloss, Joe Porcaro, Joey de Leon, Richie Gajate Garcia, Edu Ribeiro and Ale Damasceno. His passion for music and his craft is shown in his great feel and rock-solid support for the music and his warmhearted personality.
Alkis Nicolaides is a performer, composer and improviser from Nicosia, Cyprus. His work is influenced by an array of genres, Metal, Rock, Jazz, Contemporary Classical and Experimental Music. His music focuses on high-intensity improvisational environments with rhythmic considerations and the integration of technology. With the use of technology, he explores the textural possibilities of the guitar and human-to-computer interactivity.

He received his B.Mus from Berklee College of Music in Jazz Composition (Summa Cum Laude) where he studied with Ayn Inserto, Greg Hopkins, Bob Pilkington, Scott Free, Ed Tomassi and George Garzone. He continued his studies at the California Institute of the Arts where he received his MFA in Jazz Guitar under the mentorship of Larry Koonse and Steve Lehman.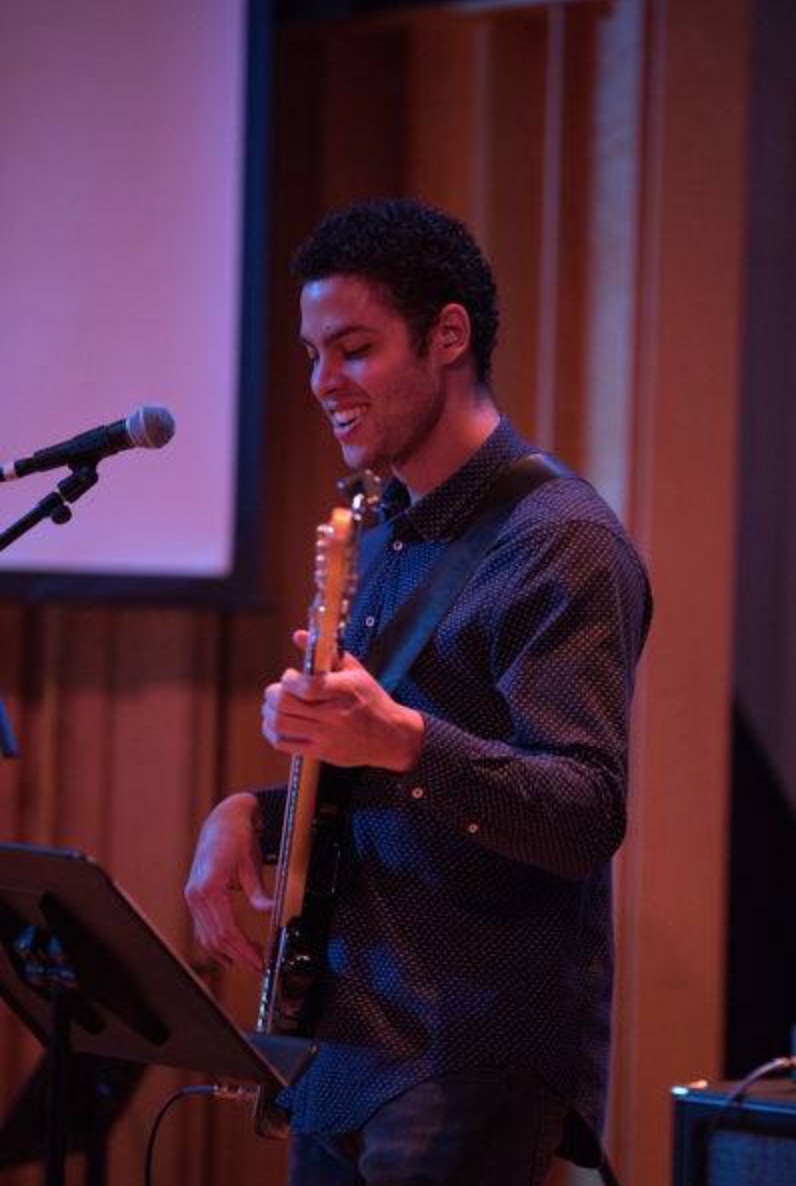 Jonathan Richards is a bassist and composer living in Los Angeles. As a touring and studio musician, he has had the privilege of working with an array of musical artists including David Foster, Khalid, Katharine McPhee, Joe LaBarbera, Terell Stafford, Marquis Hill, Snuffy Walden, Van Hunt, Jeff Goldblum, Anthony Wilson, and the Clayton-Hamilton Jazz Orchestra. Jonathan has been featured on numerous recording projects for albums, television, and film. As both an electric and double bassist, he is called upon to perform genres ranging orchestral, jazz and pop. He can be seen performing in viral videos with Postmodern Jukebox, Sara Niemietz, and the Sarah Reich Tap Music Project. He is co-leader of Wilberta, an ensemble performing original music drawing from jazz and alternative genres. He premiered a new project under his own name in January of 2018 at the Blue Whale in Los Angeles. Jonathan is a graduate of the USC Thornton School of Music where he studied with classical bass virtuoso Nico Abondolo and jazz legend John Clayton. He holds a Master's Degree from Cal Arts and is currently on faculty at Pasadena City College.
Evan Wendell is a performer-composer originating from Los Angeles. After living abroad for a decade, they are back in LA to study trumpet performance at California Institute of the Arts. Although mainly being brought up jumping between jazz and classical, the boundaries have disappeared since being at CalArts, and now Evan invests in a plethora of projects and bands that range from harsh noise to free improvisation. Besides musical performance and composition, Evan is drawn to socio-political studies, and finds that their endeavours into the world of critical writing influences their art significantly.